HemiSnake - Build Site
So I got bored waiting the 10 months that E-M has taken to build to components. I went out and blew my Christmas bonus on this. I had a blast building it and tested out our original choice for the paint scheme... we weren't crazy about it, but this way I can buy replacement bodies for about $25.
It is based on a gas powered 1/10 scale car that goes over 50 MPH. I had to custom fit the body that is designed for the electric cars. I purchased everything from Tower Hobbies, here is a link to the Cobra body, the chassis is up to you.
I tested this baby the other night and I spun the tires right off the wheels. Let's hope this doesn't happen with the real one!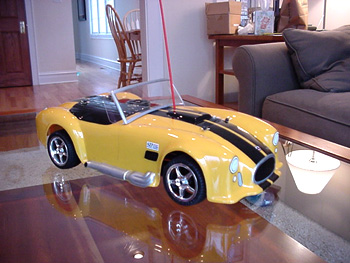 I had to cut out the driver