HemiSnake - Build Site
Before we get to the specs, I need a place to store "the process" of deciding to get this engine in the first place. George recommended that I purchase a plastic replica of the engine first. This way E-M could play with all the modifications before giving the green light. The replica engine was purchased from P-Ayr in Leavenworth, Kansas.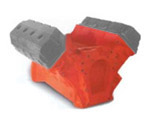 (pretty close eh?)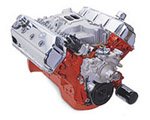 The following picture was provided by Glenn Bickert. He also has an E-M project and was kind enough to snap this photo when he was visiting the factory this winter.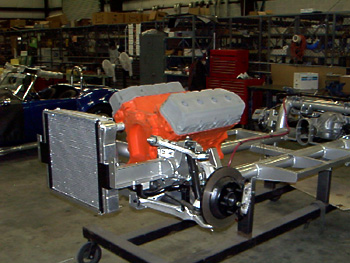 And this is what it looks like on the chassis
Mopar Performance Parts has developed this all­new 528 Hemi crate motor which pumps out 610 horsepower and 650 ft.­lbs. of torque! Features include a heavy duty cast iron block with cross­bolted mains, aluminum heads, a 292° .524"/.543" lift hydraulic cam, forged pistons (10.25:1 compression ratio), a 4BBL dual plane M1® intake manifold, 4.15" forged crank, 4.50" bore and double roller timing chain and sprockets. Stainless steel valves are 2.25" for the intake and 1.94" for the exhaust and include heavy duty single springs and umbrella valve seals. Mopar logo, cast aluminum valve covers and a chrome front cover are included as is Mopar's precise electronic distributor. Uses a basic 6­quart rear sump oil pan (1970­71 "E"­Body style). Mopar Performance Parts recommends that for maximum performance, a 850/900 cfm Holley carburetor and 2" headers be used (not included).
Note: 10.25:1 compression ratio with aluminum heads allows the use of current high octane (premium) pump gas and yet the total package makes more power than the original high ratio production version. (As seen in Sept. 1997 issue of Car Craft). Equipped with black finished cast aluminum valve covers. Note: See individual components for Hemi service parts
For more information, or pricing: Wyckoff Chrysler has great service