HemiSnake - Build Site
Who or what is Gessford Machine? Gessford Machine is an engine shop (well, more than that!) located in Hastings Nebraska. The current owner is George Anderson and you might say some of this crazy idea is his...(His version of the build site! Second Gessford page)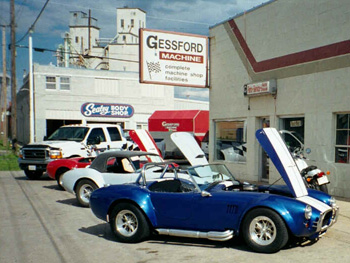 This is a shot of George's shop with some cars he built
His red one is in the back
I kept seeing his name pop-up on the boards on Club Cobra so I sent him an email asking if he wanted to help me out and this is what he had to say:
Unique!!! Different!!! Not many out there!!! Lots of Options not listed on the page and we better get the complete parts requirements b/4 we jump off the deep end! If your actually game for this Engine (One of the Hemi's) then we need to get with EM ASAP and see what they think on the application for their motor and tranny mounts! How about the P4876690 at 10.25:1 Compression... or do you feel the 9.0:1 will better fit you driving requirements? I can tell you now my gut feeling is "What a Blast" I'll start research tomorrow! -- George
Since then we have traded hundreds of emails most of time past 12:00AM when we both have some time. Hillary, Dylan and I visited the Andersen's for Sunday brunch and checked out his Cobra - what a site, I love the fact that his beast had slicks on it... no trailer queen for this guy!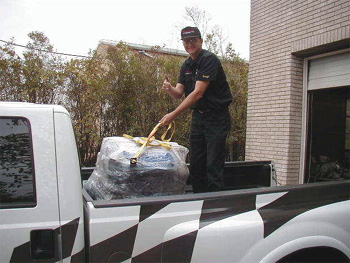 I wonder if that truck will hold the HEMI?